So, I'm a (fictitious) office products reseller that recently worked an opportunity to develop a proposal for a new prospect that buys around $10,000 of office products and supplies a year. Now, about 60% of this spend is on paper, pens, binder, folders, etc. and the other 40% is on ink and toner. My competition for the business was one of the big-box high street retailers.
A couple of years ago and I wouldn't have had a chance to even get in the door and make a proposal. Today, I'm feeling pretty confident and, it really doesn't bother me anymore who my competition is because I know I can beat whoever it is hands down with my value proposition!
It took me about six weeks to get all the information I needed to be able to prepare and finalize my proposal and this is the story of what I did during those six weeks, as well as during a couple of weeks of research prior to that.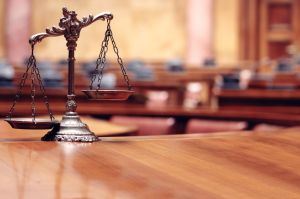 The company we submitted the proposal to is a law firm, they've got six partners, six paralegals, and six office support staff. They specialize in family law - you know wills, trusts, divorces, - all that kind of stuff.
I first got to meet the senior office administrator, who buys all the office supplies, about six weeks ago although my relationship with the company had actually started two or three weeks before that. At first, it was a one-sided relationship as I conducted all my research. They have a great website with an active blog as well as Facebook and Google+ pages, a Twitter account and a LinkedIn company page as well as all their LinkedIn personal profiles. I was able to get to know them pretty well just by checking out all their content and individual profiles.
By the way, I also learned some really good stuff about wills and family trusts by reading their blogs. In fact, I liked and shared some of their content across my social media accounts. They liked my comments, they even replied to one of them! I followed them on Facebook, Google+, Twitter and LinkedIn and they followed me back on Twitter and liked me on Facebook. I saw the office administrator checked out my profile on Linkedin.
I'd written a blog about how important local businesses are to local communities. It was only about 600 words and I'd included a link to a white paper we'd prepared showing how much money gets spent in a local community when it's kept in that community, as opposed to money spent, say at Wal-Mart or Staples, where a chunk of it goes off to their respective out-of-state headquarters.
Seems like the senior office administrator checked out our website, saw my blog and downloaded the white paper. He liked the blog, shared it on Facebook and even wrote a comment. I'd never met or talked to anyone at the law firm but, already I knew what they all looked like, where they'd all been to school, and all about their values and their corporate mission. Felt like I almost knew them personally.
In fact, it wasn't long before I was pretty sure I'd also made a good impression on them. You see, all along, my mission had been to get them to visit my website. I'm really proud of our site as I know it presents our business in the best possible way - just like the law firms website did for them. I also hoped they'd check out my social media accounts as I regularly post content on all those platforms. Some of it's unique, and some of it is material I think our audience will be interested in that I share from other sources. Some of it, but only some, is even promoting the products we sell. I'm especially proud of our blog - I really believe it helps show that we know what we're talking about and helps build trust and confidence with new prospects who can see we're the real deal.
By this stage, I knew they knew who I was, and what our business offered and, I knew they had an interest in local business because they'd downloaded my white paper and they'd commented on my blog posting. I knew some of what they were interested in, I even knew what pages they'd visited on my website.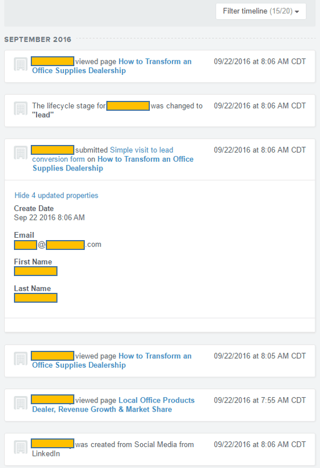 I could have taken my chances with a cold call to introduce myself and ask for a meeting. Instead, by researching the office administrators profile on LinkedIn, I could see I had a connection who was already connected and from whom I could ask for an introduction. Sure enough, two days later we were directly connected and I dialed his number.
He took my call and agreed to meet me. He didn't fall over himself to do so and he only gave me 15 minutes, but that's all I needed.
I went to that meeting with one purpose besides making a good impression, and that was to get my remote monitoring software installed on their network. This was the key for me to be able to prepare the proposal that I knew was going to put me in the driving seat to win the business. Now, I've already done this many times before. I'd learned how to overcome objections in my existing accounts and then I fine-tuned my pitch to make it suitable for presenting to new prospects. It's simple to install the app and allows the network administrator complete control to uninstall should he decide to do so for some reason. After talking a bit about thermostats, the internet of things, and how they would have complete control over the installation or removal of our app, he agreed to do so. In fact, he made it happen there and then. However, his final shot before I left, was to tell me not to get my hopes up as they'd been doing business with their current supplier for over five years and were very happy with the relationship. I said I'd be back in touch within the next four weeks.
Now, I have access to over 300,000 office products through my website and I know all these products are priced intelligently. Our service gathers competitive pricing information online, which is then applied to all our products. We use some sophisticated pricing calculations based on the competitive prices and on our margin requirements. Although I know I'm not going to be the lowest price around, I also know I don't need to be when I'm competing with a big-box retailer.
I'm not cherry picking this business opportunity. I know they don't want to have to manage multiple suppliers and, I know I want 100% of that $10,000 of new business potential. I have everything I need in my portfolio to achieve this goal. In fact, I have a lot more options available to me than my big-box competitor has, so I know I don't have to leave anything on the table.
Meantime, my remote monitoring app started gathering data. Within a day or so I learned they have 16 printing devices, I learned what they were, what cartridges went in them, and how much ink and toner were left in each of them. Still, though, I had to be patient - it was going to take another 30 days or so for me to learn how much print was going through each of their devices, and to determine when each of their cartridges was going to run out. Gathering, and intelligently using this data is my secret weapon and is why I'm able to position myself into the driving seat to win this business. As the data I'm collecting is run through our platform, I obtain information I'm then able to act on. Combined with our intelligent market pricing, I'm able to get myself into a position to develop a proposal that can't be ignored.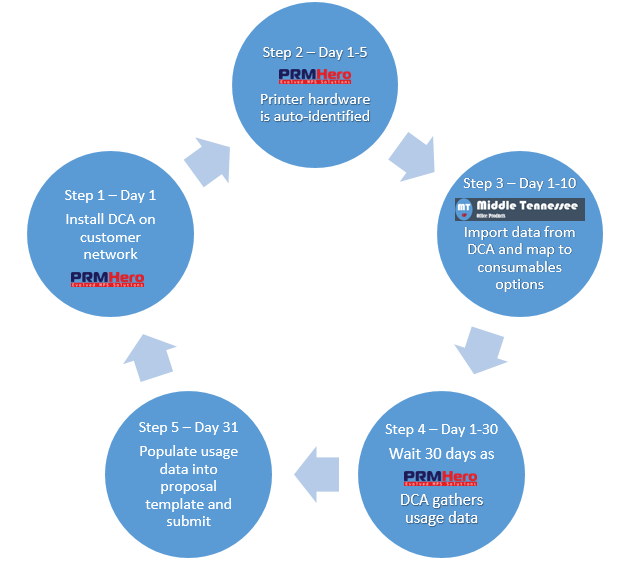 During those 30 days of monitoring, I didn't just sit around - I started to prepare my proposal on our Smart Quote Platform (SQP) that's auto-populated from the data we're gathering. I can prepare up to four different options, including, the OEM brand, a global brand aftermarket (such as Xerox, IBM or Kodak), a national aftermarket brand (such as Innovera or Elite), or our own private label aftermarket brand. As the usage data is established, I select the best cartridge option to fit the printing requirements, like high-yield cartridges to fit the high volume printers. As the best fit cartridges are selected then our quote platform extends the price. It's not long before I can see all OEM cartridges will cost around $4,500 per year, the global brand aftermarket around $3,600, the national brand around $3,000 and my own private label around $2,500. I've got plenty of options and can save the customer up to 45% off the OEM prices.
Now, I'm pretty sure they're buying mostly OEM along with a few national brand aftermarket products, so I'm able to estimate they're spending around $4,000 per year on cartridges. I can save them 10% with a global brand like Kodak, or 25% with a national brand like Innovera. Based on my experience, they won't be likely to jump all the way from OEM to my private label. We need to build more confidence in our ability as a supplier before they're going to take that step. However, that remains my goal for the longer term because that's where they're going to save the most money (45%) and where I'm going to make the most money (nearly 50%).
Now, I couldn't do all this work manually because it would take too long but, my investments to set up an integrated information technology system are really paying off. Technology puts all the information I need in front of me - I just select the best options available from my system in order to fit my prospects needs. While my competition flounders, without access to the full range of products, the market intelligence, or the business intelligence I've been able to gather, then I've been able to establish a huge advantage.
However, I also know, the same market distortions that have kept OEM and tier-1 aftermarket cartridges priced so high, don't exist on other commoditized office products. While I'm pretty confident I can match whatever pricing they're getting today, I know I can't make a credible offer to save them 45% on paper, file folders, paper clips, and the like.
Overall, I can show them four options in my proposal:

My Value Proposition

| | | | | |
| --- | --- | --- | --- | --- |
| | Option #1 | Option #2 | Option #3 | Option #4 |
| | Current Cost | Global Brand | National Brand | Private Label |
| Ink & Toner | $4,000 | $3,600 | $3,000 | $2,500 |
| Other Office Products | $6,000 | $6,000 | $6,000 | $6,000 |
| Total | $10,000 | $9,600 | $9,000 | $8,500 |
| Saving | 0% | 4% | 10% | 15% |
Unfortunately, when 60% of the spend is on commoditized office products where I can't offer a significant saving, it dilutes the overall saving I'm able to promote as part of my value proposition. Suddenly, the 10% saving on ink and toner, (by switching from the OEM to a global brand), is only 4% when it's blended with the other office products. A 4% saving amounts to only $400 a year and, with my competitor leveraging every trick in the book as to why the risk of switching just isn't worth saving $400 for, winning this business became quite a challenge. In fact, they even reduced their prices a little to further cut into my value proposition. I could have pushed hard for my prospect to take the bigger step to my private label brand, for a 15% saving that my competition probably couldn't follow but, I know from experience, not many customers will make that conversion with a brand new supplier - it's just too big a step for them to take at such an early stage.
This is where I had to leverage additional business intelligence to help my case. Firstly, I learned they have an expensive, legacy printer that's nearly five-years-old. They're printing 12,000 monochrome pages a month using an OEM cartridge that costs $265, and lasts for 15,000 pages. I've got a high yield cartridge that lasts 30,000 pages that I can offer for $80.
Strategic OEM to Aftermarket Conversion Table

| | | | | | |
| --- | --- | --- | --- | --- | --- |
| | Cartridge Price | Page Yield | CPP | Annual Pages | Annual Cost |
| OEM | $265.00 | 15,000 | $0.0177 | 144,000 | $2,545 |
| Aftermarket (Option #4) | $80.00 | 30,000 | $0.0027 | 144,000 | $384 |
| Saving | | | | | ($2,161) |
Their current annual spend on this one cartridge is $2,545. If I can get them to switch to my private label cartridge then their cost will go down to $384. This is an 85% saving, on over 50% of their total printing costs! Although they have to switch to my private label product to get this saving, the risk to do so is low. I have 100% confidence in my product in this printing environment and this low-risk decision is much easier for my prospect to make.
But, then they come back with another objection, the senior partner apparently had a bad experience with an aftermarket cartridge nearly 20 years ago. It's not negotiable, he will not accept an aftermarket cartridge in his personal printer. I take a look at the data. Well, firstly he only prints 50 pages per month, secondly, the OEM cartridge in his machine, which yields 2,100 pages and costs $80 still has 1,650 pages left and, it will be nearly 3-years before it's going to need replacing. Of course, he's not interested in all this detail - he just knows he's not going to put an aftermarket cartridge in his printer. So, armed with my business intelligence, I simply say "no problem", we'll use the remote monitoring software to trigger replenishment with an OEM cartridge when it does finally run out in 3-years time. My aftermarket options range from a cost of $20 to $40 versus the OEM brand at $80. However, the usage and savings are insignificant and don't have a meaningful impact on the overall proposition. Ironically, the senior partner is due to retire before his cartridge runs out anyway.
Then, they come back with another objection. I didn't know it but, turns out they have a satellite office 250 miles away in Chicago. One of their promising young associates relocated when her husband's job necessitated a move. However, instead of losing her, the firm decided to open a satellite office and to develop some new clients in Chicago.
Now, the current supplier has distribution centers all around the nation, so they can provide next day delivery to pretty much anywhere in the United States. Unless I could match this service, it was a deal breaker. Well, no problem. I have 300,000 products in my catalog and they're located in 120 distribution centers around the United States. Of course, not every product is in every distribution center but, the popular ones needed by the small office in Chicago were all available in a DC just 12 miles away. Another objection overcome! I don't stock anything anymore, I just leverage inventory that my vendors are managing in strategic locations all over the United States.
Turns out they still weren't done with their objections! My competitor really wanted to keep this business, so they promised a 4-hour delivery if an emergency ever came up and the customer ran out of ink and toner. What was I going to do about that? No problem, I have downstream business intelligence and I know in advance when every cartridge is going to run out.
I found out that, because they'd run out of toner a couple of times, they'd implemented a policy to get a new cartridge as soon as the ink or toner low warning popped up. Little did they know they'd been throwing away up to 20% of the full cartridge yield by not waiting until it actually stopped printing. Think about it, that grouchy old senior partner, his toner low warning pops up at 20% - that's 420 pages, or over 8 months of toner wasted. So, to overcome this objection, I just guaranteed that if they ever ran out, I'd deliver a replacement cartridge for free! That promise is never going to cost me a dime.
Oh! One last thing. I gave them access to my e-commerce portal with its vast range of products and all their custom pricing. I also showed them their "Quick Order" form where we'd set up every product they were buying into a simple pre-populated form. One click and the particular item they need is in the shopping cart!
Finally, our system will be sending out a message at every ink or toner event - like, for instance when that pesky "toner-low" warning comes on. Well, we send an email telling them we're aware of the warning message but, because there's still 45 days of toner left, they don't need to order a new cartridge right away. We'll tell them exactly when they need to order and, with our real-time visibility of the required item at our supplier's distribution centers, we know we'll be able to fulfill the demand at the optimum moment. The senior office administrator is thrilled, we just cut his time managing office products and supplies by over 80%. In fact, he gave our business a five-star review on Google Business.
That was the hundredth positive business review I've got in the last 12 months and right now my overall average rating is 4.9. That really helps develop the confidence and trust that's required for new customer and OEM conversions. In fact, although none of them are easy, they do get easier each time. I've been thrown every objection in the book and I've got every answer ready to deal with them.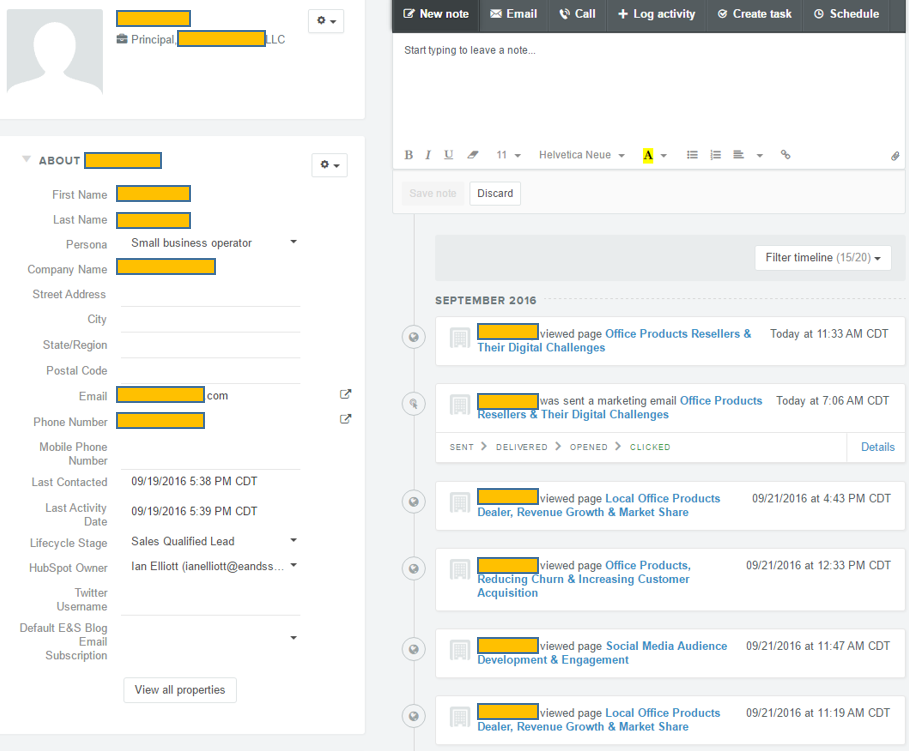 I've now connected with 12 of the employees at my law firm on Facebook and LinkedIn. I know all their birthday's along with some other personal likes, dislikes, and interests. I won't inundate them but, for sure they'll be getting a "Happy Birthday" message from me on each of their appropriate days. Not only that but our Customer Relationship Management (CRM) system keeps a record of every contact and event in both the customer and the contact timeline. All my emails are there, all my tasks and follow-ups are there - automatically. They call and I have all the information I need at my fingertips! I schedule a quarterly review, the reminders come up and I never overlook one.
I know that legacy printer isn't going to last much longer and my goal is to sell them their replacement. I'm going to recommend a new machine based on what's best for them and not necessarily what may have been best for the OEM and their $300 replacement cartridges! By the time the current printer needs to be replaced, we'll have at least a year of usage data and I'm confident I can match their printing requirements to the best possible hardware solution that's available.
Finally, it's a little disappointing, but I have discovered I'm not going to do $10,000 in sales revenue in the first year with my new customer. Obviously, it's less because we ended up saving them $2,200 on the single machine, but, what I also found out was that their previous supplier had sold them a "safety" stock, and they actually had nearly $2,000 of ink and toner inventory on their premises. My revenue is not going to kick-in until they've depleted all the existing cartridges in the machines, as well as their safety stock. Needless to say, going forward there will be no safety stock required! The good news for the customer is that between the lower prices and the depletion of the inventory they'd already paid for, they'll spend around $6,000 less this year than the $10,000 they had budgeted. They're happy with the outcome!
There are 35 other similarly sized law firms within my local "territory". I'm already researching all of them on their respective social media and on their websites. Now I have a directly relevant testimonial to assist me and a relevant customer acquisition and conversion experience to help open similar doors. I'm pretty confident I'm going to get the business in at least 25% of these prospects. I reckon that's about $100,000 of new business I stand a pretty good chance of winning.
I'm told the market for office products and supplies is shrinking and, to be honest, a couple of years ago I thought the prospects of growth and profits for my business were not good. Now though, my infrastructure is like a machine, with my website, my email marketing, my blogging, my social media marketing, the market and business intelligence tools all working together in harmony and driving relevant traffic to my site. Combined with my face-to-face activity in our local market I've developed a competitive advantage over much larger rivals.
It wasn't that long ago when my web traffic was effectively zero but now, I have over 250 unique daily visitors. That's around 7,500 per month and the trend continues to look more and more favorable as our domain authority steadily increases and helps further elevate our standing in local search results. So, while the overall market may be shrinking, it doesn't bother me anymore as I'm capturing market share and growing my revenue and profits. I've found a great balance between the use of technology and social media, alongside informational and educational content, and then combining all this digital activity with physically getting out to see my customers and prospects.
This "story" incorporates all the individual technology elements and tactics we've been blogging about over the last few weeks and binds them together into a realistic scenario. Our objective has been to illustrate how all the different components required for operating in a modern digital environment fit together and can be leveraged to gain an advantage in a local market. It's not the typical frustrating mandate preaching how small businesses must get into e-commerce in order to survive. It's the story of a value proposition that encompasses technology and helps develop e-commerce for a compelling business reason, as opposed to hoping for random traffic from across the nation to transact at a shopping cart website.
For additional reading on the state of the office products and supplies industry, please click on the button below to download a free copy of our e-book containing valuable information on the industry and how to take advantage of the conditions for profitable sales growth.
Please click on any of the "blog sign-up" links above, or the one directly below, to subscribe to our content and to continue to be informed about the turnkey solution we're developing that enables small to medium sized office products resellers to turn the capabilities related in this story into a real-life daily practice.